Specialty teak, perfect for your next custom furniture or woodworking project.
Each piece of specialty teak is chosen for its unique characteristics and potential for becoming an incredible showpiece. Subject to the same quality controls as our other wood,  you can be confident that a Mys-Teak specialty teak cookie, live-edge board, or woodworking slab will provide you – or your customers – with enjoyment for years to come.
Live Edge Board

Great for fireplace mantles, home bars, tabletops, coffee tables, office desks and more.
Designer Grade FSC – $23.99/board ft
Grading Standards
FSC –  Forest Stewardship Council certified wood.
Designer Grade – Beautiful mix of Sapwood and Heartwood – great value especially for indoor projects!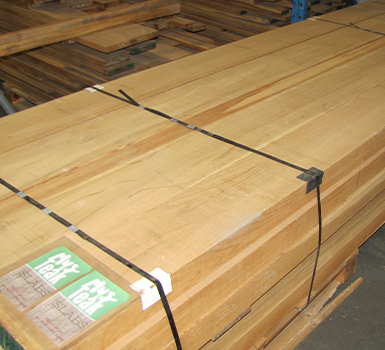 Wide Slabs 3″ x Var

Our best quality bulk teak product available in large diameter, suitable for larger volume users, commercial and marine applications and contractors who want to do their own milling.
FEQ/G1S FSC  – $30.78/board ft
100% Heartwood  – $24.92/board ft
Grading Standards
FSC –  Forest Stewardship Council certified wood.
FEQ – First European Quality: Marine Grade, minimal to no formed knots or pinholes present, no sapwood.
G1S – FEQ on one side – possibility of tight knots on reverse.
100% Heartwood – FEQ quality but with the presence of sound knots.
Looking for wholesale/commercial pricing?
Mys-Teak offers special pricing breaks and shipping options for large-volume commercial and wholesale purchasers. Contact us for details on how you can become one of our commercial partners.
There's a good reason why centuries of shipbuilders have turned to teak when outfitting their valued marine vessels.
Builders, architects, and designers frequently turn to teak for its high-end appeal, workability, and ability to stand up in high-traffic locations.
Regularly used for both exterior and interior furniture, teak wood provides a warm, smooth, yet textured feel to any design.
Heighten your passion for teak